A unique and democratic project for an entire community
Designed for Emerige by David Chipperfield Architects and CALQ Architecture, the principle of returning this building to the people of Paris and visitors to the capital is the unifying thread that runs right through the project. This metamorphic change will bring new life to the site in the form of office space, homes, retail units, a 5-star hotel, a restaurant, a day nursery, an art laboratory, a youth hostel, a fitness space and pool, planted and cultivated terraces, and an internal street with a food market to link the Boulevard Morland to the banks of the Seine. The hotel restaurant will be home to an immersive panoramic art piece by artist Olafur Eliasson to be enjoyed by everyone free of charge, at the same time as offering spectacular views of Paris.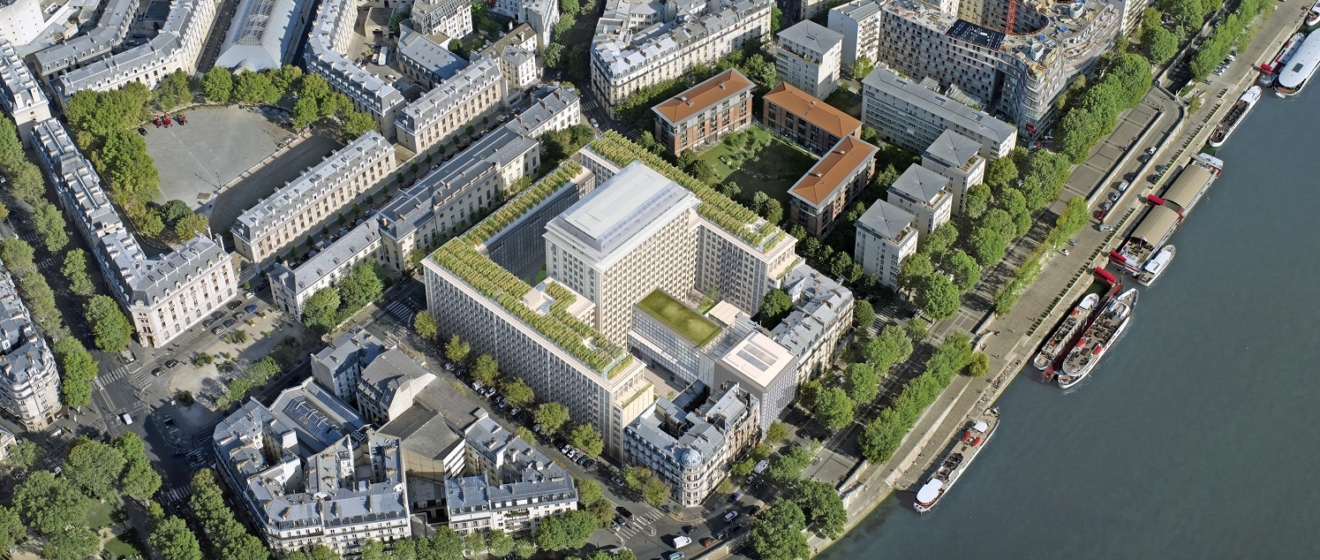 One site, but a multiplicity of uses
With its two new buildings inspired by the bridges of Paris and the repurposed historical building, Morland Mixité Capitale has been envisioned as a multifaceted place of passage, meeting and uses
A place to work
The workspaces will be central to this restored and gloriously enhanced site pierced by communicating pathways that open into innovative community squares.
9,191 m² of new offices on 6 floors
2 addresses: Boulevard Morland and Quai Henri IV
A place to live
The project will offer different types of home for all types of resident:
35 homes for first-time buyers
84 affordable homes
80 social housing units
The project also includes a dedicated space for the youngest residents, with a 63-place day nursery. Its protected inner courtyard is enclosed by landscaping.
A place to enjoy the best food and services
Beneath broad vaulted concrete arches, the pedestrian-only streets will be home to food and convenience stores. Right next to the landscaped gardens, the future market is a unique feature offering artisan produce from small-scale producers and 'Made in Morland' produce grown right here.
Landscape Architect Michel Desvigne will bring plants not only into the tree-lined courtyards, but also onto gable walls, terraces and roofs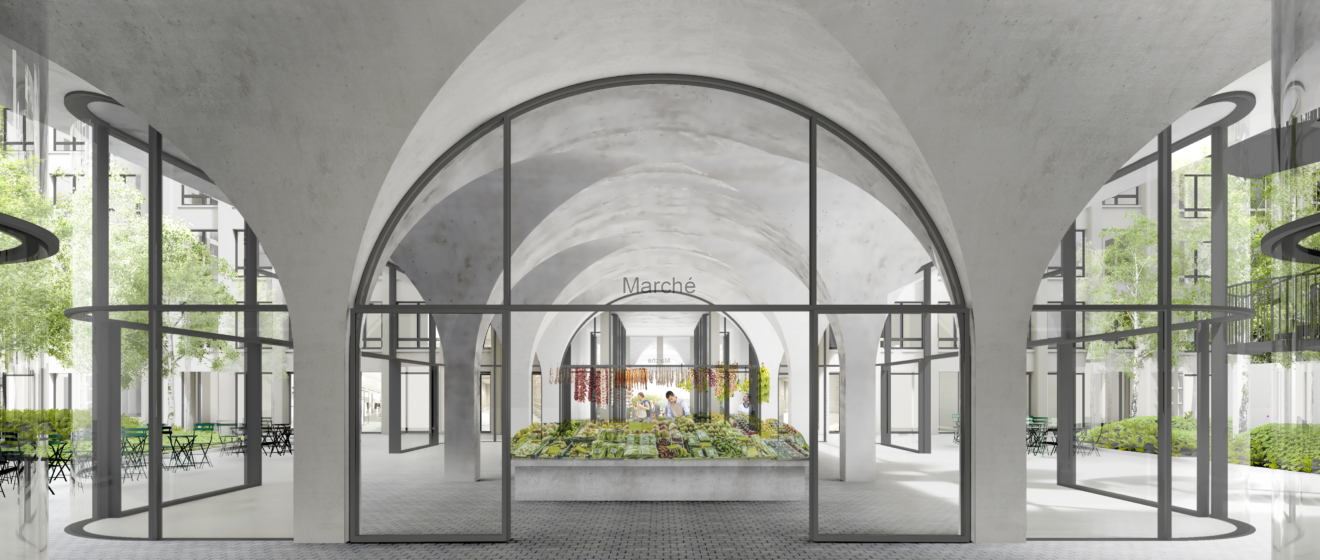 A place to eat local
Every roof terrace will be given over to urban agriculture. Cultivated by Sous les Fraises, more than 150 plant varieties will be grown on 3,000 m² of vertical cultivation space to bring biodiversity into the heart of the development and provide 'Made in Morland' produce for the food market.
A place from which to discover Paris
From the 404-bed youth hostel to the future 161-room hotel complex, the Morland Mixité Capitale project will offer accommodation for all types of visitor to the capital. The bistro-style fine dining restaurant and panoramic bar will occupy the top two floors of the historic tower to offer 360° views of Paris beneath a truly exceptional art piece that is all about light and reflection.
Created by Olafur Eliasson and Studio Other Spaces, this immersive optical piece brings the City of Paris into the restaurant and the bar, at the same time as rendering the interior of these sociable spaces visible from the exterior. Like the project, this art piece creates contact and connects spaces.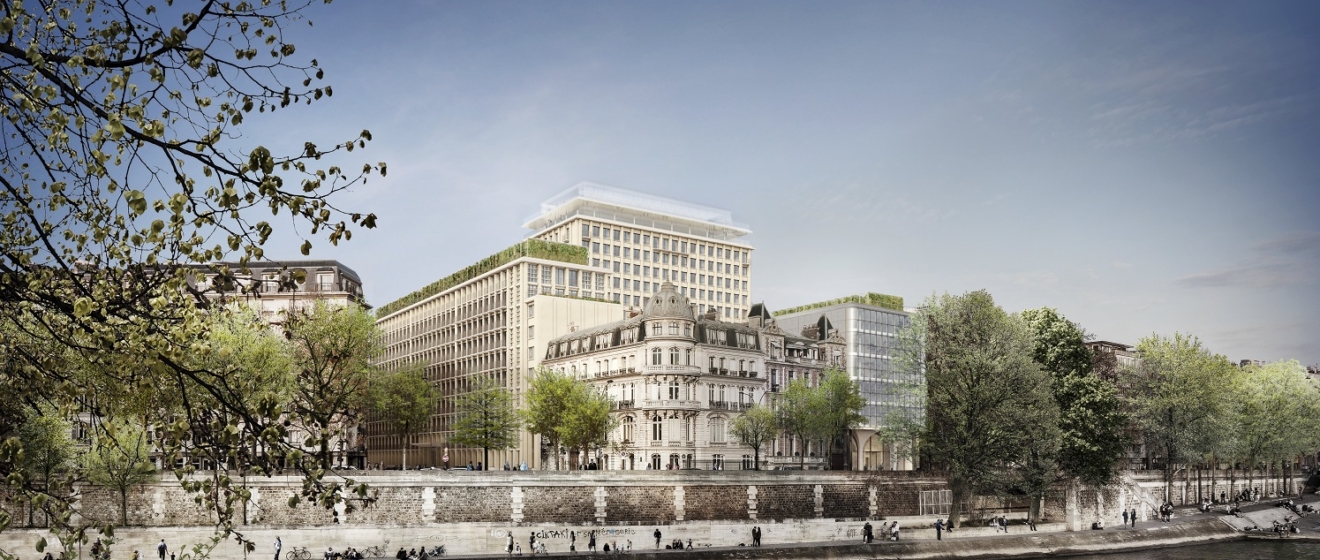 A place for regular exercise
The project includes a pool and fitness space. Like the rest of the development, these infrastructures are accessible to all: hotel guests, office staff, residents and local schools.
A place to broaden your horizons with a visit to the talent incubator
Pop-up art and artisan studios, pop-up stores, performances… The 300 m² Paris Art Lab will be open to everyone. Like all the activities offered by this multifaceted project, art will provide yet another opportunity to meet, share and exercise your own creativity.
Key figures for Morland
9,171 m² of office space
10,597 m² for the hotel, restaurant and non-residents' bar
4,151 m² for the youth hostel
15,359 m² of homes
1,749 m² for the fitness space and pool
1 491 m² of retail space and the organic food market
813 m² for the day nursery
290 m² for the arts space
Credits : ©Bloom images, Berlin with David Chipperfield Architects, Berlin – Visuels non contractuels (PCM1 et 2)